On August 23, 2018, the first Smart China Expo was grandly held in Chongqing Yuelai International Exhibition Center. During the exhibition, the parent company of DFSK, Chongqing Sokon Industry Group Stock (hereinafter referred to as "Sokon Group") joined Smart Town of Smart China Expo with its first intelligent vehicle of JinGuo EV SF5 and the self-developed EIC technology. Besides, Sokon held the strategic cooperation frame agreement signing ceremony with Alibaba Group (hereinafter referred to as "Ali"). In the future, both sides will fully cooperate in the intelligent field to promote the application and industrial cooperation of digitization, intelligentization and interconnection of automobile industry.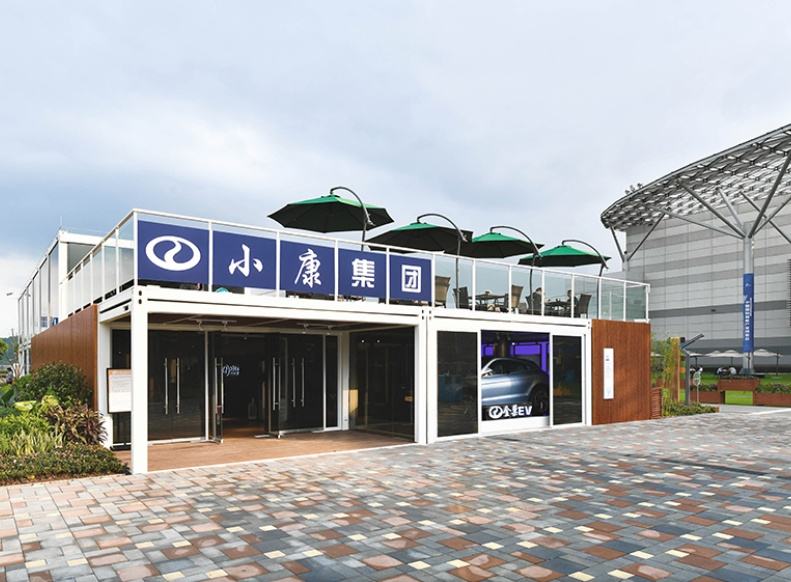 This signing ceremony has shown the responsibility of Sokon Group to "promote the revolution of vehicle energy and create an intelligent mobile life", and it is also the second time for Sokon to practice "intelligent ecological strategy". In the intelligent vehicle field which is totally new, Sokon Group is actively changing itself and insisting the high-quality development in intelligent interconnection, intelligent drive and intelligent manufacturing to promote "Made in China". The advanced technology will also be radiated to the whole world and more intelligent vehicles will be made for global users.
The strategic cooperation of five fields will create an intelligent mobile life
  According to this strategic cooperation plan, Sokon and Ali will fully take their own advantage as the vehicle enterprise and the high-tech internet enterprise through effective cooperation methods such as resource complementarity and technology sharing so as to form an effective technical alliance. Both sides will have in-depth cooperation in internet marketing, digitized middle platform, cloud computing platform, e-commerce and cargo van. Through the application of new technology like big data, AI, cloud computing, the in-depth cooperation in digitized design and development, intelligent manufacturing, the innovation of business mode, the improvement of service quality and efficiency and the intelligentization of driving experience will be made to speed up the industrialized development of intelligent vehicles.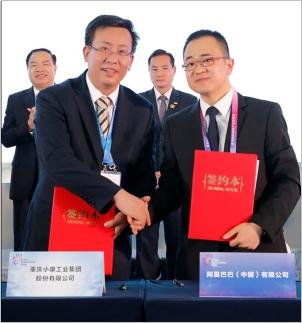 For Sokon Group with over 30 years' industrial experience, the intelligent vehicle has already become the strategic direction. CEO of Sokon Group Ma Jianchang said, "The deep integration of manufacturing experience of Sokon and internet technology of Ali will speed up the step of Sokon to be the global intelligent vehicle brand and bring global users longer-range, safer and better intelligent electric vehicle product and service."
Empower two approaches bi-directionally and completely practice intelligent ecological strategy
  As for the automatic driving technique, JinGuo EV of Sokon Group will devote itself in the R&D of "protective autonomous driving", taking security, acuity and humanity as the core to create all-around active/passive security function to meet Chinese, American and European standard. Computer vision with deep neural networks (DNN), the application of LIDAR with high perceptive accuracy, system control combining software and hardware are world-leading. The control and application of efficient integration of sensor, computing platform, chassis wire As for the intelligent manufacturing field, Sokon Group has constructed complete systematization capability and industry-leading intelligent manufacturing guarantee. As the only new energy vehicle enterprise with dual manufacturing capability and certification in both China and America, its hardware and software of two all-digital intelligent manufacturing vehicle factories in China and America are completely designed according to German industry 4.0 standard. Under the cooperation of nearly 400 production robots and over 400 AGV automatic robots, the manufacturing precision will reach a new level.
To enjoy the future intelligent life, you can experience more on site
  During the Smart China Expo, Sokon Group has brought JinGuo EV's self-developed key components of new energy EIC technology (patented motor product, range extender platform, high-powered and high-density battery pack, VCU, etc.). The first intelligent electric vehicle of JinGuo EV SF5 also appeared on site. The unique design language and good electric performance have surprised visitors. The arrival of SF5 means an important step of Sokon Group in high-end intelligent electric vehicle field. It is said that SF5 will start the mass-produced vehicle experience as early as next January. SF5 will be put into the market and the batch delivery will be achieved in the third season of 2019. In the future, SF5 will be fully radiated to overseas markets and customers around the world will be able to order this vehicle.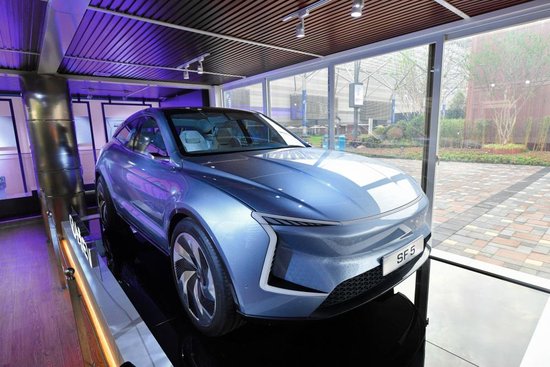 SF5 appeared in Sokon exhibition hall during Smart China Expo, which has drawn a lot of attention on site
  After rapid development in over 30 years, from pursuing the dream to building the dream, Sokon Group is innovating and developing itself in the new era and new trip, involving itself in intelligent vehicle industry. The courage is commendable, and its overall arrangements and the practical work in intelligent technology, products, manufacturing, application and even the industry chain will lay a solid foundation for the future development. Sokon will lead the whole world in intelligent manufacturing technology and new energy technology,  and bring users around the world better products and services.